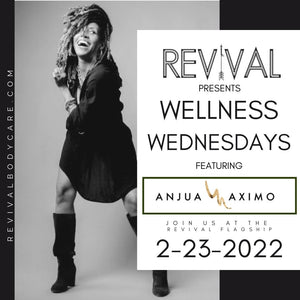 WELLNESS WEDNESDAY W/ ANJUA MAXIMO
Regular price $35.00 Sale
WELLNESS WEDNESDAYS
These intimate gatherings, held at the Revival Flagship, will feature experts on all topics that pertain to overall wellness! We invite you to join us to gain knowledge, expand your mind and gather with a group of like-minded individuals that are looking to grow on their wellness journey. 
Join us on Wednesday, February 23, 2022, from 7:30-9:00 pm, as we host Anjua Maximo, founder of The Electric Feminine & Pure MVMNT.  Coaching. Anjua Maximo Life & Mvmnt Coaching company was created to guide women to self-confidence by helping them find their purpose and voice. In her Pure Mvmnt Immersion class, Anjua helps you define what's sexy and sensual to you through a style of erotic dance that inspires your body to tell its story. With her Electric Life Coaching, she helps you define your voice, wrangle your inner critic and get clear on your heart's true desires. In a society that profits off of a woman's insecurities, Anjua Maximo Life & Mvmnt Coaching rejects the narratives around sexuality, age, and expectations of women's behavior by shining a light on the very power that has always resided within.
The focus of this WELLNESS WEDNESDAY will be SELF-LOVE. February is known as the month of love, so this is an ideal time to reflect on taking down the barriers that many of us, as women, have surrounding our bodies and minds. Anjua's empowering message and practical tools will leave you feeling ready to focus on YOU and dive into your powerful, feminine, goddess energy. 
During our time together, you will enjoy complimentary refreshments and bites, along with a goody bag to take home. All attendees will also receive a VIP discount on all Revival Body Care products on the day of the event.