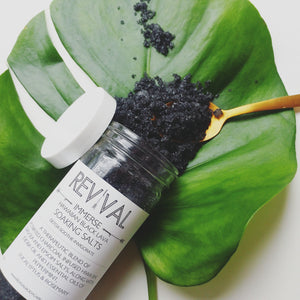 IMMERSE SOAKING SALTS - HAWAIIAN BLACK LAVA
Regular price $19.95 Sale
IMMERSE yourself in a warm bath filled with mineral rich salts and aromatic, therapeutic essential oils.
HAWAIIAN BLACK LAVA: 
A therapeutic blend of activated charcoal infused Hiwa Kai, Dead Sea and Epsom Salts, along with, Jojoba Oil and Essential Oils of Peppermint, Eucalyptus & Rosemary.
DIRECTIONS: 
ADD A HANDFUL TO YOUR BATH TO INFUSE THE WATER WITH MINERALS FROM THE SALTS. BE SURE TO STIR THE BATH SALTS INTO THE WATER AND CIRCULATE THEM WELL, SO THE ESSENTIAL OILS ARE RELEASED INTO THE STEAM. RELAX!
8 OZ.
MADE IN THE USA 
100% VEGAN INGREDIENTS 
NO ANIMAL TESTING 
PLEASE RECYCLE/RE-USE YOUR CONTAINER
Join the #RevivalTribe