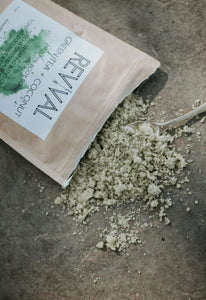 GREEN TEA + COCONUT BODY SCRUB
Regular price $0.00 $19.95 Sale
This rejuvenating blend will leave you feeling energized and stress free! Your glowing skin will thank you!!!
INGREDIENTS:
Fair Trade/Organic Cane Sugar is a natural exfoliant that works to strip away dead skin cells.
Organic Virgin Coconut Oil penetrates deep into pores for intense hydration, is anti-fungal, anti-microbial & anti-bacterial. It is high in antioxidants, Vitamin E & K. It improves skins elasticity, heals capillaries, reduces age spots and wrinkles. In summary, Coconut Oil is a miracle worker!
Matcha Green Tea is super high in antioxidants! It reduces inflammation and its deep green color equals high concentration of chlorophyll which helps to eliminate toxins. It boosts energy, while at the same time offering stress relief! Matcha naturally fights the signs of aging!
DIRECTIONS:
Apply a generous amount to damp skin using a circular motion. Pay special attention to problem areas. This scrub can be used from head to toe! Once applied, leave on skin for 5-10 minutes to allow all of the incredible ingredients to work their magic on your skin! Rinse with warm water. SEE AND FEEL your REVIVED skin!
Use 2-4 times per week as needed.
WEIGHT: 8 oz.