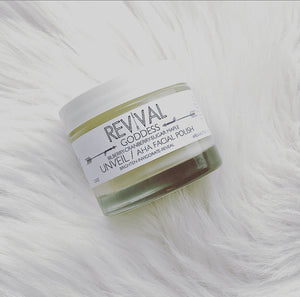 GODDESS UNVEIL AHA FACIAL POLISH
Regular price $34.95 Sale
UNVEIL your most dewy, radiant, healthy skin! Revival Body Care UNVEIL AHA FACIAL POLISH works to retexture, refine and brighten, leaving skin feeling soft, supple and revived. Nature provides us with Alpha Hydroxy Acids to offer gentle exfoliation to the skin. AHA's take off the top, damaged layer of skin, revealing healthy skin beneath and allowing for the regrowth of skin cells.  AHAs are preferred for sun-damaged and dry skin because they exfoliate the skin's surface and have the added benefit of boosting moisture. The acids also may enhance your body's production of collagen, the protein that plumps and firms the skin surface. This gentle, yet effective blend will be a staple in your skincare routine and rounds out the Revival Goddess Facial Collection!
INGREDIENTS:
ORGANIC ALOE VERA LEAF JUICE:  Aloe Vera leaf is known for its skin healing properties. It is used for irritated, sunburned, or inflamed skin. It is also high in antioxidants, vitamin C, and other minerals which allow the skin to heal faster. Aloe helps fight the signs of aging and reduces wrinkles while providing skin with nutrients it needs to remain supple.                                                           
ORGANIC PALM FRUIT OIL***: One of the biggest benefits of Palm Fruit for the skin is its natural content of Beta carotene. Beta carotene is a powerful antioxidant that kills off the free radicals that can lead to premature aging. Palm Fruit oil is also a natural source of vitamins A, C, and E.
JOJOBA BEADS: These non-abrasive beads offer the added benefit of gentle polishing action. Jojoba protects and cleanses the skin, fights harmful bacteria growth that leads to breakouts, soothes fine lines and wrinkles, balancing.             
APRICOT KERNEL OIL: The emollient properties of apricot kernel oil can help to exfoliate and moisturize the skin, helping it retain moisture, eliminating dry patches, and relieving inflammatory conditions, such as rosacea, psoriasis, and eczema.
PLANT-BASED EMULSIFYING WAX: acts as a mild stabilizer and thickener
STEARIC ACID: protect skin's surface against water loss and creates a protective barrier.
VEGETABLE GLYCERIN: naturally derived from plant oils. As a humectant, glycerin works to moisturize the skin by drawing water from the air into the skin's outer layer.                                                                                           
VITAMIN E: an antioxidant that targets wrinkles, dark spots, uneven texture.
ORGANIC GREEN TEA LEAF EXTRACT: is super high in antioxidants! It reduces inflammation and its deep green color equals a high concentration of chlorophyll which helps to eliminate toxins, while it naturally fights the signs of aging.
ORGANIC SUGAR CANE EXTRACT: used as an antiseptic and natural exfoliant, it can smooth and brighten skin's appearance.
ORGANIC BILBERRY FRUIT EXTRACT: Bilberry extract helps facilitate the delivery of oxygen-rich blood to all layers of the skin. This also helps the skin receive other nutrients that help maintain its elasticity and suppleness, including oil-moisture balance.                                
ORGANIC MAPLE EXTRACT: treats wrinkles and enhances the elasticity of the skin. It helps to smooth fine lines, reduce inflammation and even treat pigmentation.
ORGANIC ORANGE PEEL EXTRACT: holds powerful antioxidants that fight free radicals. The significant amount of calcium in orange peels is also very effective for protecting against premature aging of the skin.
ORGANIC LEMON PEEL EXTRACT: has been shown to lighten, smooth and cleanse skin as well as treat acne. It does this using citric and plant acids to remove dead skin. Touts anti-bacterial, anti-fungal and anti-microbial properties.
ORGANIC CRANBERRY FRUIT EXTRACT: The acid in cranberries acts as an exfoliant and vitamins like A and C help boost collagen production. Fights free radicals that may cause wrinkles and also keeps skin moisturized. For centuries, cranberries, have been valued for antioxidant properties and anti-aging benefits.   
GLYCOLIC ACID (from sugar cane): is the holy grail for exfoliation, effectively removing the outermost layer of dead cells from the complexion, revealing brighter, fresher skin.
TARTARIC ACID: improves skin texture and reduces the signs of aging by promoting cell shedding in the outer layers and by restoring hydration.
MALIC ACID: improves skin texture and reducing the appearance of fine lines and wrinkles. Promotes the shedding of the outer layer of skin cells, exfoliating away build-up and pore-clogging impurities.
MANGO SEED BUTTER: highly moisturizing, the Vitamin C in mango butter helps it to boost and brighten the skin, while Vitamin A helps to reduce fine lines.
ORGANIC SHEA BUTTER: Rich in Vitamin E, fatty acids and mineral. It contains antifungal and antibacterial properties and easily absorbed.                                  
ORGANIC WHITE WILLOW BARK EXTRACT: has been used for centuries to soothe irritated skin. Containing salicin, from which salicylic acid is derived, this versatile ingredient is both anti-inflammatory and antibacterial, clearing pores and alleviating acne and irritation.                                                                    
ORGANIC NEEM SEED OIL: the high fatty-acid content in Neem Oil is said to prevent and treat scars from acne and is non-comedogenic.
ORGANIC ROSEMARY LEAF EXTRACT: has natural antiseptic properties, and is a superior disinfectant.                                                                              
ORGANIC SUNFLOWER SEED OIL: Source of Omega-6 (linoleic) fatty acid along with Vitamin E.. Its large amount defines the powerful benefits of sunflower oil for skin. Strong antioxidant that works against the damage done by free radicals. Acts as an emollient that traps moisture inside skin cells. Shields skin from future environmental damage and limit moisture loss    
ORGANIC ALCOHOL: completely plant-derived and grown in a USDA certified organic environment! It is high quality, drinkable alcohol that is not drying and is beneficial to the skin. Has been used for centuries to facilitate the efficacy of the ingredient! It also acts as an effective and natural preservative.
XANTHAM GUM: is used as a thickening agent and a stabilizer to prevent the finished product from separating. Derived from the bacterial fermentation of wood pulp polysaccharides, not corn, and is certified non-GMO as per NOP rules of the USDA.                                                                                       

PHENOXYETHANOL: found naturally in green tea and is used in products to fight bacteria. Scores a 2 on EWG.
TETRASODIUM GLUTAMATE DIACAETATE: A multi-purpose, clear, liquid chelating agent and preservative booster. Tetrasodium Glutamate Diacetate is made from plant material, readily biodegradable, with high solubility over a wide pH range. Scores a 1 on EWG.
***REVIVAL BODY CARE IS COMMITTED TO SUSTAINABILITY AND THE BEST PRACTICES OF OUR INGREDIENT SUPPLIERS! IN REGARDS TO INCLUDING PALM IN UNVEIL AHA FACIAL POLISH: Our palm supplier collaborates with Greenpeace International (one of the suppliers was voted the #1 sustainable palm oil producer) and the Forest Trust. The palm kernel producer has also had a zero deforestation policy since 2001. In addition, our suppliers are in a select group of international NGO's and leading producers including the WWF and Rainforest Action Network that form the Palm Oil Innovation Group (POIG).
DIRECTIONS: 
Apply to damp skin. Gently massage onto face in circular motions. For an extra boost, allow UNVEIL to stay on skin for 1-2 minutes to allow all of the ingredients to work their magic. Rinse. Follow up with Revival Goddess Facial Serums. Use one to three times weekly. Stop immediately if irritation occurs.  
 2.3 OZ.
MADE IN THE USA 
100% VEGAN INGREDIENTS - NO ANIMAL TESTING 
PLEASE RECYCLE THIS CONTAINER