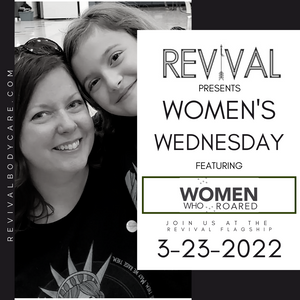 WOMEN'S WEDNESDAY W/ WOMEN WHO ROARED
Regular price $15.00 Sale
WELLNESS WEDNESDAYS
These intimate gatherings, held at the Revival Flagship, will feature experts on all topics that pertain to overall wellness! We invite you to join us to gain knowledge, expand your mind and gather with a group of like-minded individuals that are looking to grow on their wellness journey. 
Join us on Wednesday, March 23, 2022, from 7:30-9:00 pm, as we host Barbara Balough, founder of Women Who Roared. Women Who Roared is a passion project that started to combine Barbara's love of history and empowering females with being in charge of stuff and wearing soft shirts!  Barbara Balogh launched Women Who Roared as a company in late 2020, a few years after she built up the idea from an annual scouts event into a growing Facebook community. She works full-time as an internal communications manager, as well as a wife and mom. In her spare time, she is the volunteer Service Unit Director for Lakewood Girl Scouts and co-leader of several troops. 
March is Women's History Month, so we are hosting a special edition of Wellness Wednesday to CELEBRATE the past to inspire the future! WOMEN'S WEDNESDAY! Join us for an evening of inspiration and empowerment as we celebrate the incredible women that have paved the way for all of us! Bring your daughters (and sons!), sisters, mothers, besties!
During our time together, you will enjoy complimentary refreshments and bites, along with a goody bag to take home. All attendees will also receive a VIP discount on all Revival Body Care products on the day of the event.