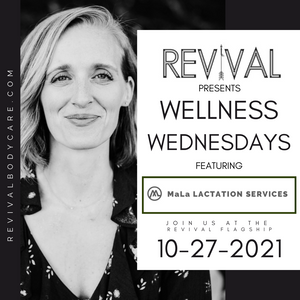 WELLNESS WEDNESDAYS W/ MALA LACTATION
Regular price $45.00 Sale
WELLNESS WEDNESDAYS
These intimate gatherings, held at the Revival Flagship, will feature experts on all topics that pertain to overall wellness! We invite you to join us to gain knowledge, expand your mind and gather with a group of like-minded individuals that are looking to grow on their wellness journey. 
Join us on Wednesday, October 27, 2021, from 7:30-9:00 pm, as we host Lauren Lasko, of Mala Lactation Services.  She is an International Board Certified Lactation Consultant (IBCLC) and owner of MaLa Lactation Services. The company offers in-home lactation support, telehealth visits, breastfeeding classes, and more. She also works as a family nurse practitioner at two area clinics, where, at one of the clinics, she runs a breastfeeding medicine program. Lauren has spent the last several years working to make lactation support more equitable and accessible to families from all socioeconomic backgrounds. She has presented her work at The Academy of Breastfeeding Medicine Conference and has co-authored multiple articles about this topic, including a study on "Translating Team-Based Breastfeeding Support into Primary Care Practice" in The Journal of The American Board of Family Medicine.She received her nursing training and graduated with honors from Columbia University in New York City and lives in Lakewood with her husband, two crazy boys, and fur daughter "Rosie".

The focus of this WELLNESS WEDNESDAY will be BREASTFEEDING. OCTOBER IS BREAST CANCER AWARENESS MONTH, so we are celebrating BREASTS and how amazing our bodies are and what they are capable of...with the right support! Lauren believes that giving yourself lactation support and education is one of the most important ways to meet your breastfeeding goals. Studies show prenatal breastfeeding education not only increases your chance of exclusively breastfeeding but also helps you do it longer! Lauren's passion in life is helping breastfeeding families harness the power of their bodies and help guide them in meeting their nursing goals. Lauren aims to provide thoughtful, non-judgemental (there are many ways to give your baby breast milk!) and evidence-based information.
During our time together, you will enjoy complimentary BREAST/BREASTFEEDING HEALTHY refreshments and appetizers, along with a goody bag to take home. All attendees will also receive a VIP discount on all Revival Body Care products on the day of the event.