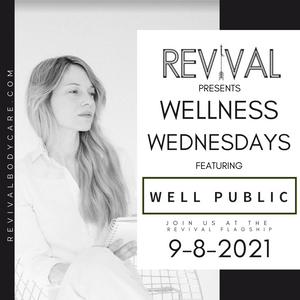 WELLNESS WEDNESDAY W/ WELL PUBLIC
Regular price $45.00 Sale
WELLNESS WEDNESDAYS
These intimate gatherings, held at the Revival Flagship, will feature experts on all topics that pertain to overall wellness! We invite you to join us to gain knowledge, expand your mind and gather with a group of like-minded individuals that are looking to grow on their wellness journey. 
Join us on Wednesday, September 8, 2021, from 7:30-9:00 pm, as we host Nicole McFall, founder of Well Public. Nicole is dedicated to helping others transform their health by utilizing holistic strategies & anti-inflammatory nutrition, informed by science. The focus of this WELLNESS WEDNESDAY will be GUT HEALTH. As we transition into Fall, this is an ideal time to reflect on changes that can be integrated into our diets to optimize overall wellness. Nicole will discuss holistic strategies to nourish your microbiome, rooted in scientific data, addressing a whole body, gut-supportive, healthy skin-from-within approach to upgrade your health. 
During our time together, you will enjoy complimentary gut-friendly refreshments and bites, along with a goody bag to take home. All attendees will also receive a VIP discount on all Revival Body Care products on the day of the event.