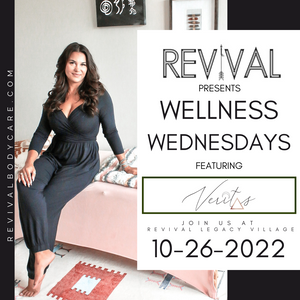 WELLNESS WEDNESDAY W/ VERITAS
Regular price $35.00 Sale
WELLNESS WEDNESDAYS
These intimate gatherings, hosted by Revival, feature experts on all topics that pertain to overall wellness! We invite you to join us to gain knowledge, expand your mind and gather with a group of like-minded individuals that are looking to grow on their wellness journey. 
Join us on Wednesday, October 26, 2022, from 7:30-9:00 pm at Revival Legacy Village, as we host Courtney Van Atta, founder of VeritΔs. Energetic & spiritual rejuvenation await your mid-week evening as Revival and VeritΔs partner to bring you an evening of Reiki energy healing & a meditative crystal singing bowl sound bath!
Come as you are, and be prepared to leave this event with an open heart, clear mind, and renewed spirit! Plus, a beautiful crystal & intention card both charged with loving universal life force energy during our evening so you get to carry the vibes with you wherever you may go!

Join us for an intuitive healing experience created to help you find inner peace and serenity! The ancient practice of Reiki will be blended with the resonance of the crystal singing bowls to offer you a profoundly meditative experience while you recline on your mat/blanket and enjoy this beautiful energy! 

This Reiki healing & sound bath experience will be facilitated by trained practitioner and Reiki Master Courtney Van Atta; Intuitive Healer & mentor, and the founder of VeritΔs.

Picture this: As you enter the beautiful space that is Revival, you'll find your place on the floor and get comfortable. As we begin you'll have the opportunity to choose a beautiful crystal & set an intention for the evening, and both your crystal and intention card will be blessed and charged with loving energy during the experience! As we begin, you will be guided in simple breathwork techniques as you relax into the experience. During your Reiki & sound bath experience, you will receive the energy healing experience as you relax on your mat. 

New to Reiki? It's a beautiful experience! Reiki is an energy healing technique that promotes relaxation and reduces stress & anxiety. Reiki practitioners use their hands to deliver Universal Life Force Energy to your body - though no physical contact will be made in this setting as touch isn't required for the healing experience - improving the flow and balance of your energy to support healing. The channeling of Universal Life Force Energy moves through the practitioner and is received in your body exactly as your Soul & body desire to receive. It's a sacred personal experience & one you'll feel immediate and lasting results from!

Guests require no prior experience, but just a willingness to release the stress in their life and instead embrace feeling peaceful and a lightness of heart.

Attendees are encouraged to bring their favorite blanket or yoga mat (or pre-purchase a special yoga blanket from Revival to have ready for you the night of the event, via ticket option) and a personal water bottle. Please wear comfortable attire. This is all designed to facilitate relaxation and connection with your Soul & intuition within. Guests will also receive a VIP discount on all Revival Body Care products on the day of the event.