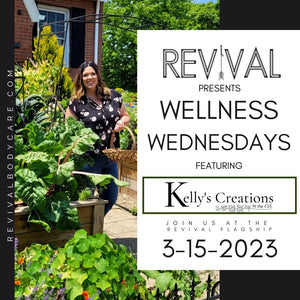 WELLNESS WEDNESDAY W/ KELLY'S CREATIONS IN THE CLE
Regular price $45.00 Sale
WELLNESS WEDNESDAYS
These intimate gatherings, held at the Revival Flagship, will feature experts on all topics that pertain to overall wellness! We invite you to join us to gain knowledge, expand your mind and gather with a group of like-minded individuals that are looking to grow on their wellness journey. 
Join us Wednesday, March 15th, 2023 from 7-9 pm as we host
Kelly Crotty
, founder of
Kelly's Creations in the CLE
. As a Garden Consultant, Kelly has designed and installed Kitchen Gardens and Landscapes throughout the Greater Cleveland Area, with a strong focus on Urban Environments. She takes the guesswork out of the process, letting you learn and gain confidence along the way as you grow your garden. Kelly is known for harvesting 9-10 months out of the year, a break from the normal 'garden guidelines' here in NE Ohio and she loves teaching that to others. Kelly's true passion is to get more people growing, no matter where they might live: a house, condo, or apartment. 
That is why we are pleased to bring you this unique new Wellness Wednesday. You will learn all about The Seasons of Gardening, grasping the knowledge of what plants grow best in which seasons, and what those seasons really mean, introducing you to the Arc of Seasons. You will start to understand there is so much more to gardening than just planting a seed or plant and watching it grow when.
We will also be offering a fun and interactive activity to grow your own Sprouts! Gardening takes time and patience, and in our fast-paced instant gratification world, that can be tough to live by. Enter in Sprouts, as you take your jar home with you, within 5 Days you'll be eating them. Did you know that you get more dense nutrition from a Sprout than you would eating the mature version of that Plant? Sprouts require no sunlight, so no matter where you live, you can grow them! All materials are included in ticket price!
During our time together, you will enjoy complimentary refreshments and bites.  Attendees will also receive a VIP discount on all Revival Body Care products on the day of the event.