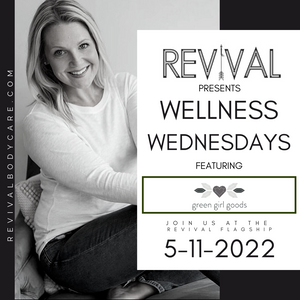 WELLNESS WEDNESDAY W/ GREEN GIRL GOODS
Regular price $25.00 Sale
WELLNESS WEDNESDAYS- MOM + ME EDITION
These intimate gatherings, held at the Revival Flagship, will feature experts on all topics that pertain to overall wellness! We invite you to join us to gain knowledge, expand your mind and gather with a group of like-minded individuals that are looking to grow on their wellness journey. 
Join us on Wednesday, May 11, 2022, from 7:00-9:00 pm, as we host Sara Marino, founder of Green Girl Goods. Green Girl Goods is the first clean beauty, self-care, and eco-friendly subscription and gift box just for Tweens and Teens. Take the guesswork out of finding clean, appropriate, fun products for our girls!
GGG is working to educate the next generation of female consumers by sharing brands and products you can feel good about the girls using. They share info with the girls on ingredients and how to choose the best options. Boxes ship seasonally, as well as, custom orders for sleepovers and birthday boxes!
Sara has a background in education, is a wife and mother of 3. She created the lifestyle brand Tree Hugger In Heels focused on clean, organic, less-toxic living in a fun, chic, and manageable way. Sara is passionate about sharing information and helping others, is well versed in clean beauty, family wellness, organic eating, and green products. After receiving many inquiries for guidance on the best options for girls who are beginning to explore makeup, skincare, and personal care items, Green Girl Goods was born.
In celebration of Mother's Day, what's better than some skin-care education, a Revival Retreat experience, and a mom/daughter bonding experience all rolled into one?! We invite moms (grandmas, aunties, sisters) of TWEENS & TEENS to learn about and implement Clean Beauty and Make-Up routines for this Wellness Wednesday! ***Tickets must be purchased for all attendees. ex: Mom + Tween = 2 tickets**
During our time together, you will enjoy complimentary refreshments and bites, along with a goody bag to take home. All attendees will also receive a VIP discount on all Revival Body Care products on the day of the event.