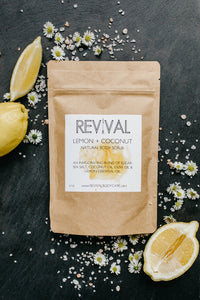 LEMON + COCONUT BODY SCRUB
Regular price $0.00 $19.95 Sale
This invigorating blend is just what you need to get your day started!
INGREDIENTS:
Fair Trade/Organic Cane Sugar & Sea Salt are natural exfoliants that work together to strip away dead skin cells.
Organic Virgin Coconut Oil penetrates deep into pores for intense hydration, is anti-fungal, anti-microbial & anti-bacterial. It is high in antioxidants, Vitamin E & K. It improves skins elasticity, heals capillaries, reduces age spots and wrinkles. In summary, Coconut Oil is a miracle worker!
Lemon Essential Oil is deeply nourishing. It improves your complexion and leaves your skin soft and supple. It aids in fading age/sun spots and treats eczema.
DIRECTIONS:
Apply a generous amount to damp skin using a circular motion. Pay special attention to problem areas. This scrub can be used from head to toe! Once applied, leave on skin for 5-10 minutes to allow all of the incredible ingredients to work their magic on your skin! Rinse with warm water. SEE AND FEEL your REVIVED skin!
Use 2-4 times per week as needed.
WEIGHT: 8 oz.